XIXth European Congress of the EFBS in Prague
17 and 18 October 2019
Social programme
For congress delegates and accompanying persons
The Association of Czech Building Savings Banks AČSS invites the delegates of the congress and their
accompanying persons for a celebratory evening event on Thursday 17 October 2019:
Concert and dinner at the historic Rudolfinum
Situated in the very heart of the Old Town, the majestic building of the Rudolfinum is an important
architectural monument of Prague. The Neo-Renaissance building on the bank of the Vltava is
associ­ated with music and art since its opening in 1885.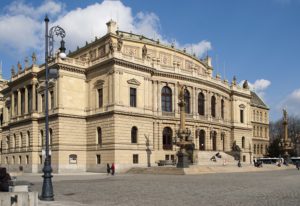 Fotografie: Rudolfinum, Mihael Grmek
For accompanying persons
Accompanying persons of the congress delegates have the choice of two excursions on Friday 18 October 2019:
A) City tour of Prague
Departure from the hotel at 10:00h. Guided tour in English and German and takes about 2 1/2 hours. After the tour the participants are invited for a light lunch at a typical Czech restaurant. Return to the hotel at about 15:00h.
B) Excursion to Kutná Hora
Departure from the hotel at 9:00h.
Kutná Hora is situated about 70 km east of Prague. The town was founded in the 12th century as a mining settlement. The territory greatly advanced due to the silver mines which gained importance during the economic boom of the 13th century. From the 13th to 16th centuries, the city competed with Prague economically, culturally, and politically. Since 1995, the city center has been a UNESCO World Heritage Site.
City tour in English and German. Light lunch after the city tour. Return to the hotel between 15:00h and 16:00h.
Please make you choice when registering for the congress.
The social program is included in the congress fee.